I'm making BBQ pulled pork for dinner tomorrow, I always have to make it for mom/sis/stepdad when I go home, it's ALWAYS a hit.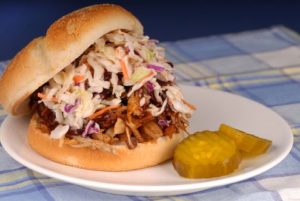 BBQ Pullled Pork and Fresh Coleslaw Sammiches
Hardware
A large pot
A sheet pan
Software
1 Boston butt, whichever size suits your needs
2-4 beers (depending on the size of your butt), whatever you like, avoid really heavy and/or dark beers like Guinness as they can be overpowering
2-3 tbsp kosher salt
1 tbsp of liquid smoke
1/4 cup of apple cider vinegar
A dash of liquid crab boil
Your preferred BBQ seasoning
Your preferred BBQ sauce (I prefer Stubb's)
FOR THE COLESLAW
Half a cabbage, shredded (feel free to use the prepped kind)
Half an onion, chopped (optional)
One carrot, julienned (optoinal)
1 cup of mayo
3-4 tbsp of apple cider vinegar
1 tsp of chipotle powder (add more or less per your taste)
Do Work!
Place your but in your pot and add  2-3 inches of beer. Next add your salt (I ONLY use kosher salt), liquid smoke, apple cider vinegar, and your crab boil. bring this to a boil, once there drop the heat low and cover the pot
Turn the meat over every half an hour.  Cook the butt like this until you can press the meet with a spoon and it starts to fall apart (usually two hours)
Remove the butt from pot and pull it apart.  Place the meat on your sheet pan and season it with your BBQ seasoning.
Place the pork under a broiler (or in an oven turned up as high as it'll go) for five minutes.
Remove the pork from the broiler and toss the meat (giggity) and add your BBQ sauce.
Place back under the broiler for another five minutes then toss the meat again and VOILA
For the coleslaw, add all the ingredients to your bowl and toss well to combine
Put the pork on a bun, top with the coleslaw and house that shit. Enjoy.
Coincidently, you can use the same cooking method for carnitas, except instead of adding vinegar, add a can or rotel chopped tomatoes, 2-3 cloves of garlic, and a halved onion.  Season with kosher salt and 3-4 tbsp of cumin.
Cook in the same manner, then add another can of rotel to the shredded meat, add 4 tbsp of cumin, and some chipotle powder (optional).
Place under broiler for five minutes, mix the meat and place under the broiler for another 5 minutes.  The meat should be SLIGHTLY crispy.
Add to tacos or use to stuff enchiladas.  Shit's BOMB.
Now when i say tacos (I don't look it, but mom's Mexican/Cajun and I take my Mexican food seriously.  Taco Bell and that other gabacho shit don't work for me. lol) I mean: 2 soft corn tortillas, the carnitas, chopped onion, chopped tomato, some fresh cilantro, and maybe some lime juice.  I make my own salsa sometimes but if not U use "salsa ranchera".  You can find it in the Mexican section of your grocery.